Chazown Experience - Discover God's Vision Workshop
Looking for a vision? You can discover God's vision for your life through this 1 day workshop where you'll identify your values, spiritual gifts and key experiences that reveal what you're purpose really is. You'll also develop a plan to pursue your vision and life your life with uplifting purpose.
Details are below and if you'd just like to go through the Chazown Experience on your own or, even better, with friends or family then you can do that too by going to www.chazown.com.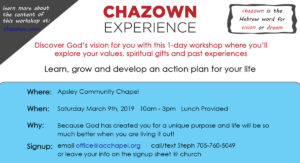 Apsley Community Chapel
299 McFadden Rd
Apsley , ON K0L 1A0
705-656-1510


Apsley Community Chapel
299 McFadden Rd
705-656-1510