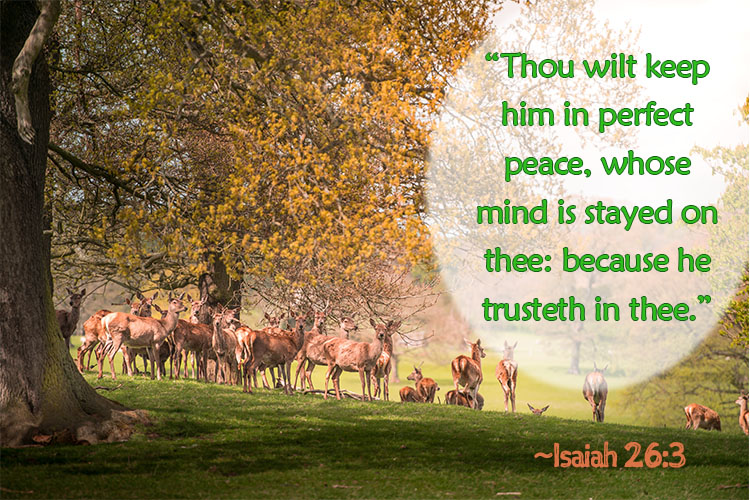 "Thou wilt keep him in perfect peace, whose mind is stayed on thee: because he trusteth in thee."
~‭‭Isaiah‬ ‭26:3‬ ‭KJV‬‬
This scripture is one that I had to apply to myself in a very purposeful way several years ago (and several times since then as well)!
Our family had been hit by tragedy and it felt like I was in a whirlpool that kept sucking me in. Specifically, in my mind. The thoughts kept coming like a vicious onslaught! "How could this happen to us?" "Why did this happen to us?" "How could we have stopped this from happening?" "Why didn't we hear from God?"
On and on these thoughts came, and many others besides, until I felt like I was drowning. Then one thought hit me and with it realization dawned that I was in a battle.
This was it: If you keep dwelling on this you will end up in an insane asylum!
While the other thoughts had been pulling on my sympathy strings, this one brought me some reality. My thoughts were leading me down a path that I didn't want to go down and it was entirely up to me to stop! Then, the scripture from Isaiah came up in me and I grabbed onto it and spoke it over and over – louder than the thoughts that were still trying to cling to me! It was a fight for my mind. A fight for my peace. Peace that Jesus had already died and paid for! Peace that though made available, I had to lay hold of and refuse to let go!
I had to! Not God, not Jesus, not the Holy Spirit, not the angels — me!
Nobody else can control what you think about! Not your spouse, your in-laws, your friends, not even your enemies! You have within you, by the spirit of God, the ability to stop and bring into captivity EVERY thought that would exalt itself against the knowledge of God. Thank the Lord that I had stored the Word in my heart so that in a time of crisis, the Holy Spirit could draw it out!
I am so grateful for the living Word of God. Keep storing it in your heart, it will be your help in times of trouble!
For the only cause that counts,
Julia